Holiday apartment 'Tessin'
General
Sharing one roof with friends is possible in our holiday apartments 'Tessin'. A huge, romantic frame house accommodates nine stylish apartments surrounded by a generous garden area.
Individual outlines of the apartments for 2 to 6 persons offer something for everybody. Every room is completely furnished and the lower floors have direct access to the sun bathing areas and terraces. Private parking is available for our guests and pets can be brought in accordance with the reception.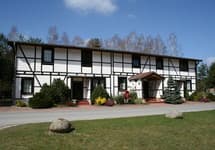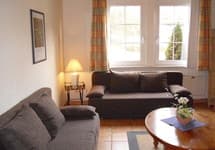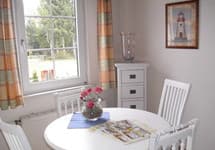 Facilities
Our holiday appartment 'Tessin' is equipped with
Cutlery and kitchen appliances
Toaster
Sattelite TV
Garden furniture
Parking space
Storage area
Sunbathing area
Private parking
Terrace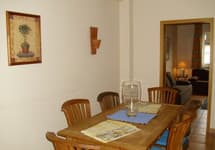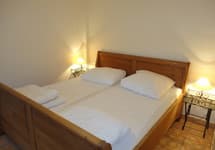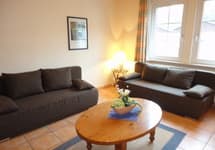 Rates
Season A: 05.01. - 31.03.2019; 27.10. - 22.12.2019
Season B: 31.03. - 26.05.2019; 16.06. - 06.07.2019; 25.08. - 27.10.2019; 22.12. - 05.01.2020
Season C: 26.05. - 16.06.2019**; 06.07. - 25.08.2019
**except the arrangements in the season C Ascension, Pentecost,
The costs for cleaning is included in the first night and week price.
Linen package: € 6,50per person has to be booked
Bed service on arrival: € 3,75 per bed
Towel set: € 4,50 (towel and bath towel) per person to be booked
Tea towel package: € 3,50 (2 tea towels, 1 hand towel) to be booked
Extra bed: € 10,00 per night
Dogs are allowed in some properties. They cost € 4,25 per night.
7 + 7 - For the second and every following week there is a discount of 10%.
| | | | | |
| --- | --- | --- | --- | --- |
| | Saison A | Saison B | Saison C | |
| Tessin 2 - 1 week | 255,00 | 314,00 | 385,00 | |
| Tessin 2 - first night | 76,00 | 83,00 | 95,00 | |
| Tessin 2 - from the 2nd night | 36,00 | 43,00 | 55,00 | |
| Tessin 4 - 1. week | 277,00 | 345,00 | 418,00 | |
| Tessin 4 - first night | 84,00 | 93,00 | 105,00 | |
| Tessin 4 - from the 2nd night | 39,00 | 48,00 | 60,00 | |
| Tessin 6 - 1. week | 314,00 | 396,00 | 477,00 | |
| Tessin 6 - first night | 93,00 | 103,00 | 118,00 | |
| Tessin 6 - from the 2nd night | 43,00 | 53,00 | 68,00 | |
| | | | | |
| | | Tessin 2 | Tessin 4 | Tessin 6 |
| Ascension Package | 29.05.-02.06.2019 | 205,00 | 225,00 | 254,00 |
| Pentecost Package | 07.06.-11.06.2019 | 205,00 | 225,00 | 254,00 |