Rental Caravans
General
Generous rental caravans are available in our holiday park. Enjoy our natural surroundings in one of our rental caravans with wooden floors.
You only have to bring towels and bed linen yourself, the rest will be taken care of. Animals are unfortunately not allowed.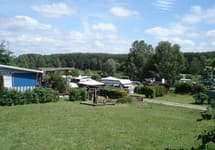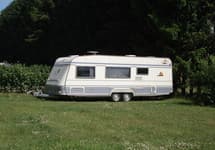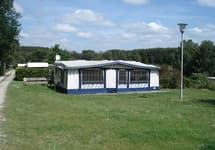 Facilities
Completely facilitated (incl. coffee maker, TV, plates and cutlery; duvets and pillows are also available) guests will only have to bring duvets covers and towels (or you can rent them here). In the pre tent guests will find a frigde and a seating area for 4 to 6 people depending on the size of the caravan.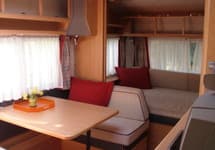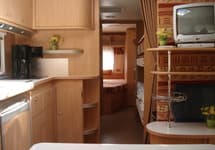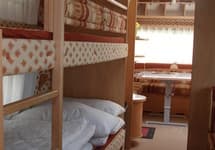 Rates
Offseason: 03-01/02-05 - 02-09/20-12
Shoulder season: 03-05/30-06 - 21-12/05-01-2014
Main season: 01-07/01-09
The costs for cleaning is included in the first night and week price.
7 + 7 - For the second and every following week there is a discount of 10%.
| | | | |
| --- | --- | --- | --- |
| | Off Season | Shoulder Season | Main Season |
| Caravans rentals (up to 4 people) | | | |
| 1 week | 261,00 | 317,00 | 376,00 |
| first night | 71,00 | 79,00 | 87,00 |
| Afterwards | | | |
| 1 night | 41,00 | 49,00 | 57,00 |
| | | | |
| caravan rentals (up to 5 people) | | | |
| 1 week | 279,00 | 335,00 | 398,00 |
| first night | 73,00 | 82,00 | 90,00 |
| Afterwards | | | |
| 1 night | 43,00 | 52,00 | 60,00 |